A Voice Not Stilled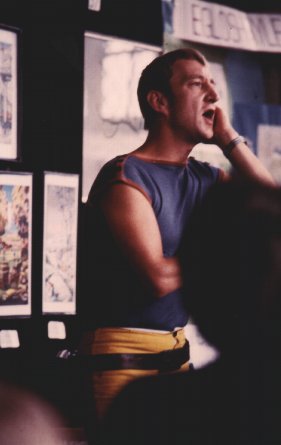 Photo is copyright of Roger Liptrot ©
Peter Bellamy died on September 24, 1991, but we're not here to mourn, but to celebrate a life filled with song, to celebrate a life that gave us so much joy. His career spanned a quarter of a century, and would still be going today.
Like all of our websites, this grew out of a single page, to be seen at our
Rise Up Like The Sun
website . The page is about what many consider to be Peter Bellamy's finest moment, his monumental work,
The Transports
, which tells the (true) tale of two people, from Bellamy's native Norfolk, sentenced to transportation for fourteen years to Botany Bay, in 1783.More on the history of transportation can also be found at our Rise Up website.The Transports page will be reproduced on this site as well, along with every aspect we can find on the life and career of Peter Bellamy. It should be noted that there is a website already in existence on this amazing singer, but the more we looked at it, the more we realized that the site appeared to be long abandoned, mores the pity, so this gave us more impeteous to create this site, so Peter Bellamy will not be forgotten. You'll see familiar names cropping up from time to time, Ashley Hutchings, Dave Swarbrick, Nic Jones, to name but three, though you'll recognise the names, we hope, when you see them. So join us, won't you, and help us celebrate this life, and life in general, it's worth it...
To start off with, a brief biography and on the right, links to some rememberances of Peter, by various folk, then it's onto the first major endeavour in Peter Bellamy's life, the now legendary vocal trio, Young Tradition.
Peter Franklyn Bellamy, was born on 8 September 1944, in Norfolk, England, and was one of the English folk revival's greatest voices. After dropping out of art school in 1964, Bellamy formed the highly influential and innovative Young Tradition in 1965, with Royston Wood and Heather Wood. The trio specialized in a cappella arrangements of traditional English folk songs. Bellamy was influenced early on by traditional Norfolk singers Harry Cox and Sam Larner, and revivalists such as Ewan MacColl and A.L. Lloyd. The Copper Family were also a great influence on the Young Tradition's arrangements. They disbanded in 1969. As Bellamy would later point out, they became important and influential, even legendary, after they had ceased to exist. Bellamy commenced his solo career later that same year. It was in 1970 the idea first struck Bellamy to set the poems of Kipling to music. This fascination with Kipling continued until Bellamy's death, resulting in no fewer than five albums of Kipling songs.that , he began a series of recordings of his own arrangements of the poems of Rudyard Kipling. As a result of the series, he was elected to the vice-presidency of the Kipling Society. In 1977, he released The Transports, a self-composed "ballad opera', featuring the talents of Martin Carthy, Nic Jones, June Tabor, Cyril Tawney, A.L. Lloyd and the Watersons, among others.It was released as an album in 1977 and also had several stage runs in England and was judged as Folk Album of the Year by Melody Maker. During the '70s and '80s, Bellamy was trying to find an audience wider than the traditional folk crowd, so he cut back on the traditional songs in his shows, turning them into multimedia historical presentations. Bellamy's career was halted for a couple of years during the 80s, after throat problems caused him to curtail his singing. He toured the USA and Canada regularly, and occasionally accompanied himself on guitar or concertina, but usually sang unaccompanied. His high vocals were unmistakable.
Traditional singing was in Bellamy's blood, and the beginning of the '90s found him back to performing mostly a traditional repertoire once again, with the exuberant enthusiasm he has always been known for. Bellamy felt there was a lack of appreciation for the music to which he had devoted his life. More than once he has commented on how countless performers have ditched traditional music for other forms of "folk" music. Some, he felt, did it for money, something he no doubt understood but regretted. More often, though, he expressed regret that interest in traditional song was simply on the wane, not only with audiences, but with performers as well. He always acknowledged that his own unwillingness or perhaps his inability to compromise had led to the demise of The Young Tradition. Perhaps, some 22 years later, it helped lead to his own; in September 1991, Peter Bellamy took his own life.
All Peter Bellamy recordings are recommended.
related internet links

texts of trad. arr. including

several recorded by Young Tradition

and Peter Bellamy

from one incredible

singer to another,

Dick's site is well

worth the visit.

a collection of folk

albums including

Wake The Vaulted Echoes
The Wake The Vaulted Echoes

website is ©2004/2005/2006/2007

All Rights Reserved